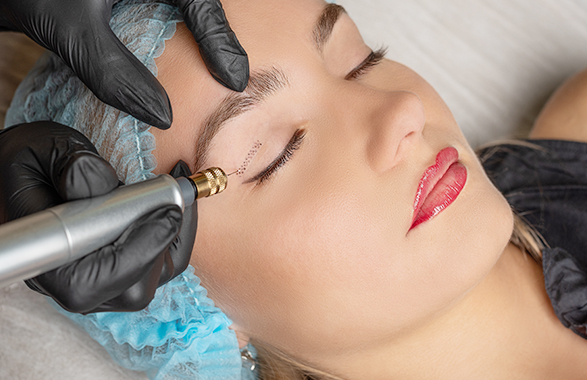 The latest advanced facial treatment
Fibroblast is a revolutionary treatment that tightens the skin in a non invasive and non surgical way, therefore using no scalpels or any surgical instruments to cut the loose skin.
How Does it Work?
Fibro Blast is a skin tightening treatment that uses an electric arch that is transmitted through a small probe and heats the targeted area for the precise skin lifting effect.  This innovative technique cannot cause the so called 'overlifting' you can get with surgery as it only affects excess/loose skin which returns to its 'original state'  The principle is to ionize gases in the area to create a small electrical arch, similar to a tiny lightning bolt, with which dermal and epidermal areas, which are affected by aesthetic problems, may be treated without spreading unwanted heat to the surrounding areas.  When the electrical arch touches the skin surface, the heat widens the acne and is transferred into the epidermis as the way to the papillary layer which contains fibroblast cell.  Consequently the excess skin is reduced and the result is comparable to lifting or wrinkle reduction. 
Fibroblast Explained in Full - All Q & A - 30 Mins - * See our APP for Q&A*
**Please refer to our App for more information and prices** App available on Apple Store or Google play 
Consultation - 30 mins
Cheek Lines - Approx. 90 Mins 
Crows Feet - Approx. 75 mins 
Full Face - Approx. 240 mins 
Lower Face - Approx. 120 Mins 
Lower Lid (2 treatments inclusive) Approx. 90 Mins 
Nasolabial Fold - Approx. 60 mins
Neck - Approx. 240 mins 
Smokers Lines - Approx. 60 mins
Upper and Lower lids (2 treatments inclusive) Approx. 130 mins
Upper Eyelid (2 treatments inclusive) Approx. 90 mins