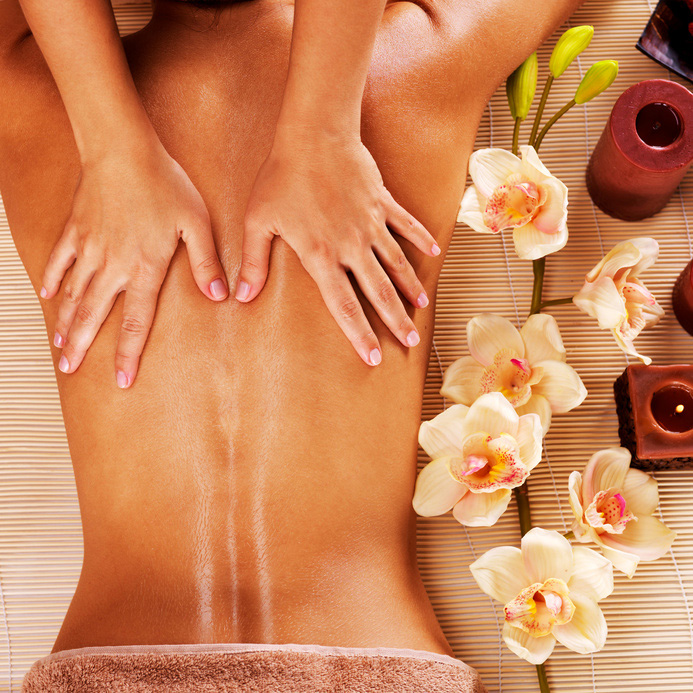 Most popular signature massages
Revival massage - back and shoulder
Executive Revival Retreat Massage - full body
Deep Tissue Massage
Specialised Body Treatments

Lava shells
Hot Stone Massage
Candle Massage
Pregnancy Massage
Body Scrub
Reflexology
Indian Head Massage
Body Scrub
 **Please see our App for further information and the price list** - APP available on App store or google play
With the recent refurbishment of the salon we have a room dedicated to relaxation treatments, with more spacious beds that are heated for enhanced relaxation. Softly lit candles and aromatherapy diffusers add to the calming ambience.
Our treatments include a full consultation to ensure the treatment meets your needs perfectly. We use pre-blended oils for all our massages including Muscle Relief / Relaxation / Invigorating / Mother and Baby and Renew and Refresh.
Most popular Signature Massages
Revival Retreat (Please allow 45 Mins)
reduce the stresses of the day.  This back, neck and shoulder massage will help you relax and unwind.  The massage is tailored for your needs using approaches from a wide variety of massage techniques.  Relax under the duvet, in our heated beds while warm oils are drizzled on to your back to warm any aching tired muscles, then let us work our magic to break down any tension and tight muscles.  For 30 MINS let us massage your back, neck and shoulders and feel the stresses disappear while the mind and soul drifts off into relaxation mode.  
Retreat Full Body Massage (Please allow 75 mins)
Alleviate high stress levels, ease aching muscles and revive the senses with this specially designed full body massage to lift the spirits and deeply detoxify the body whilst working at breaking down tension around aching tired muscles.  Your therapist will use her years of experience to tailor makes the treatment to suit your needs.  1 HOUR of complete care whether you are looking to relax, detox or relieve some built up tension.  Treatment time is 1 HOUR.
Deep Tissue Massage (Please allow 1 hour) NEW 
Treatments are performed only by therapists who have had advanced deep tissue massage training and include a full consultation.
Deep tissue massage helps to relieve chronic aches & pains and improves stiffness. With the use of warm oils the massage therapist will apply sustained pressure using slow, deep strokes for 45 MINS to target the inner layers of the muscles and connective tissues and stretching techniques are also used. The treatment focusing mainly on the back, however can be tailored to the client's individual requirements, focusing attention on the main area of concern.
Allow one hour.
Specialised Body Treatment
Lava Shell (45 or 75 min)
Lava shell massage is a type of heat treatment that uses tiger-striped clams as a massage tool. The heat is created by inserting a sachet of minerals, dried sea kelp and algae into the shells. An activator of sea-water is added which enables the shells to achieve a high level of heat and the therapists uses these shells to perform a relaxing and deeper massage.
Hot Stone Back Massage (Please allow 45 mins)
An exceptionally deep tissue, back, neck and shoulder massage which works in harmony with your body for 30 MINS.  Using various techniques with warm stones to promote a sense of balance and well being.  Works deeper than a normal massage to loosen tight muscles and aid deep relaxation. 
Hot Stone Full Body (Please allow 75 Mins)
An exceptionally deep tissue full body massage using warm basalt stones melt away tension working deeper into the body for 1 HOUR.  This ancient therapy uses the therapeutic heat from stones which is slowly released into the heart of the muscle for a completely new body experience.
Pregnancy Massage (Please allow 45 mins)
Special Care is taken during this massage with the perfect pressure and depth to completely relax you and help eliminate any tension and anxiety.  For 30 MINS your back, your back, neck and shoulders are all taken care of, however, we will concentrate on any areas that need attention, such as the lower back or shoulder area.  **Please note massage cannot be performed in the first trimester
Reflexology (45mins)
This is an alternative holistic treatment performed on the feet, which applies pressure on key points to help alleviate symptoms with the body systems or organs. There are more than 7000 nerve endings in the human foot and by targeting these nerves, it is thought we can assist the flow of energy through the body to the areas affected by illnesses or stress.
Indian Head Massage (45mins)
Indian Head Massage is an ancient therapeutic practice that has been used in India for over 5000 years. It is believed that the mind and body are intricately connected and can therefore influence one another. The treatment can help reduce headaches and improve physical well-being as well as boosting mental and emotional wellness.  It is carried out on a chair through light clothing and focuses on massaging acupressure points along the head, neck and shoulders.
CACI Electro Cellulite Massage (approx. 30 mins)
Gives an instant lift, shape and tone to your buttocks and thigh area.  This treatment improves the appearance of cellulite and breaks down fatty deposits.  It stimulates circulation and lymphatic drainage, which will help to flush toxins away giving a smoother and tighter dimple free appearance.  This treatment is ideal for a pre-holiday blitz.
Mini Overhaul (approx. 75 mins)
This is one of Revival Retreats most popular treatments, you receive a 30 MINUTE back, neck and shoulder massage and a 30 MINUTE Revival Retreat facial.  With the massage we concentrate on your lower and upper back area to ease tension from aching joints and heavy shoulders.  It also involves an analysis of the skin, deep cleanse, exfoliation and a pressure point facial massage.  This is a lovely treatment to pamper someone special or just yourself!